63 Piece Wiha RedStripe TECH PAC Contractor Tool Kit
Wiha Pro Rewards members earn $27.45 USD worth of points.
Sign up for Pro Rewards to start earning points.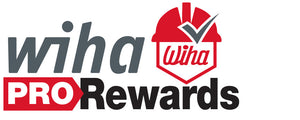 We took the popular Wiha RedStripe TECH PAC and filled it with a new assortment of industrial-grade tools that work for you. Designed for safe and comfortable transport of your Wiha Tools, the Wiha RedStripe TECH PAC is the perfect tool carry solution for accessing areas that require climbing extension ladders, cage ladders or walking long distances to service equipment. The RedStripe TECH PAC features a thermo-formed EVA padded back panel for cushioning the load and a padded load displacing shoulder strap system with multiple adjustments for a secure fit. The RedStripe TECH PAC features patented center panel design for keeping the bag rigid and upright and a stable waterproof base that keeps tools dry. The bag has 56 pockets inside and out with plenty of room for hand tools, impact drivers, manifold gauges, hoses, cable wires, and even a tablet. Designed for use by serious trades pros, the heavy-duty TECH PAC Backpack is the ultimate tool kit when combined with Wiha professional quality tools. Buy with confidence knowing the tools are backed by the Wiha No Hassle Guarantee and the bag is backed by Veto Pro Pac's® 5-year warranty. 
Set Includes: Slotted 8.0mm x 150mm, 6.5mm x 150mmm, 4.5mm x 125mm | Phillips #2 x 100mm, #1 x 80mm | Square Screwdriver #2 x 150mm, #1 x 100mm | SoftFinish® 11inOne Multi-Driver | Classic Auto Grip V-Jaw Tongue and Groove Pliers 10" | Classic Grip BiCut Compound Diagonal Cutters 8" | Classic Grip Long Nose Pliers 8" | Classic Grip End Cutting Nippers 8.0" | 7 Piece BitBuddy MaxxTor® Impact Bit Set | 8 Piece BitBuddy MaxxTor® Impact Bit Set | 35 Piece 1/4" Ratchet and Bit Set | conveniently stored in a Veto Pro Pac® TECH PAC
2 storage bays and 4 storage platforms for efficient and evenly distributed tool storage
Patented center panel design for central stabilization to keep bag vertical
Adjustable front-flap quick strap for manifold gauge and hose storage and added capacity
7" x 10" zipper pocket for small laptop or tablet storage
Powder-coated d-rings (4 large and 5 small) for added versatile function
Outside mounted stainless-steel clip for quick tape measure access
Double-stitched heavy-duty plastic coil zippers for secure miscellaneous storage
Quick-release metal hasp for easy rear bay storage access
Marine-grade rivets and industrial strength double nylon stitching for heavy-duty durability
Padded EVA thermoformed ergonomic back padding for comfortable carry
Over-molded ergonomic handle grip for secure and comfortable hand-carry
Internally stored aluminum hook for hanging (load-test fail at 200 lbs
3mm Injection-molded polypropylene weatherproof base for protection from ground elements
Tactical All Black Polyester Body Fabric (phthalate-free); Interior Construction - Gray Pockets For Better Visibility
Weatherproof tool pocket fabric: 1800 PVC impregnated denier nylon for protection from elements
Strap load connection for added shoulder strap reinforcement
Adjustable padded shoulder straps for even weight distribution high on the shoulders
Tool bag is backed by Veto Pro Pac's® 5 year warranty
Backed by the Wiha No Hassle Guarantee
SKU: 91862
UPC: 084705918624
Weight lb: 17.4 lb
Country of Origin: Myanmar
Product Depth Inches: 22"
Product Width Inches: 16"
Product Height Inches: 12"
SKU: 91862
Weight lb: 17.4 lb
UPC: 084705918624