10 Piece ESD Safe Tweezers Set
Wiha Pro Rewards members earn $10.60 USD worth of points.
Sign up for Pro Rewards to start earning points.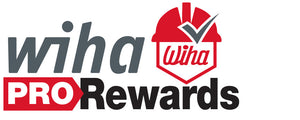 When it comes to working on small components and modern electronics, using the best precision tweezer is essential—Wiha's 10 Piece ESD Safe Tweezers Set is unrivaled. This precision tweezer set is constructed with premium quality tool steel that undergoes a rigorous heat treatment to produce through hardening for long-lasting durability. The set features multiple-precision tweezer tip styles for all types of detailed work. All of the tweezers meet ESD Standard IEC 61340-5-1 for protecting components and materials from electrostatic discharge. The tweezers also feature non-magnetic tips that help protect objects from sticking, improving work efficiency. The tweezers come conveniently packaged in a compact heavy-duty case for easy tool storage. 
Tweezer tip styles included:
Universal Fine Point Flat Round Fine Round Point Fine Round Shorter Fine Tapered  Curved Extra-fine Longed Rounded Extra Bent 30° Very Fine Round 40° Tapered
Set Includes: 4 SA - 110mm, 5bb SA - 107mm, AA SA - 130mm, PSF SA -125mm, 2a SA - 120mm, 3c SA - 110mm, 3 SA - 120mm, 7a SA - 120mm, 7abb SA - 120mm, 4b SA - 110mm
Meet ESD standards for protecting components from electrostatic discharge
Conveniently packaged in a compact metal case for secure tool storage
Non-magnetic tips for anti slippage and precise efficiency
Clear-coating for added corrosion and rust protection
Wiha premium quality tool steel for strength and durability
Durable finish for corrosion protection
SKU: 44593
UPC: 084705445939
Weight lb: 1.0 lb
Country of Origin: Pakistan
Product Depth Inches: 6.8"
Product Width Inches: 4.5"
Product Height Inches: 1"
Packaging: Box
SKU: 44593
Weight lb: 1.0 lb
UPC: 084705445939