16 Piece Insulated Apprentice Electrician's Tool Kit
Wiha Pro Rewards members earn $16.05 USD worth of points.
Sign up for Pro Rewards to start earning points.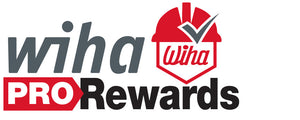 The Wiha Industrial Apprentice Tool Kit has the tools you need to get started as an apprentice electrician with the added safety of using individually tested VDE screwdrivers. The set contains common insulated screwdrivers used by electricians, "tweaker" sized precision screwdrivers, a level, tape measure, wire strippers, and a hammer for everyday work. Whether you are setting up panels, or doing residential HVAC work Wiha's apprentice tool set is a complete tool kit to get you started into the Wiha family of tools. Every single Wiha insulated tool is individually tested to 10,000 volts AC and rated to 1,000 volts AC (1,500 volts DC) for safety and peace of mind in energized applications. All Wiha Insulated tools are VDE Certified and meet EN/IEC 60900 testing standards for protection against arc flash explosion, ASTM F1505 standard specifications for insulated and insulating hand tools and CSA testing benchmarks for safety and performance.
Set Includes: Belt Pouch, Screwdrivers, Pliers, Cutters, Tape Measure, Claw Hammer, Level, and Measuring Tape
Tools conveniently packaged inside a Cordura Electricians Belt Pouch
Individually tested to 10,000 volts AC and rated to 1,000 volts AC for safety and peace of mind
Slip guard handle design for added protection
SoftFinish cushion grip handles for comfort and control
Dual durometer construction for long-lasting durability
Induction hardened cutting edges and jaws for superior longevity
Wiha patented DynamicJoint for 40% stronger grip and easier cuts
Backed by the Wiha No Hassle Guarantee
SKU: 32934
UPC: 084705329345
Weight lb: 8.5 lb
Country of Origin: Germany
Product Depth Inches: 13"
Product Width Inches: 9"
Product Height Inches: 4"
Packaging: Box
SKU: 32934
Weight lb: 8.5 lb
UPC: 084705329345