36 Piece GoBox Electronics ESD Precision Micro Bit Set
Wiha Pro Rewards members earn $1.85 USD worth of points.
Sign up for Pro Rewards to start earning points.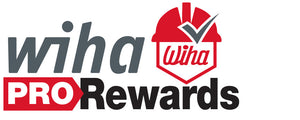 The Wiha GoBox 36 Piece Electronics ESD Precision Micro Bit set contains Slotted, Phillips, Hex, Torx, Pentalobe, Standoff, and Y-Type Micro Bits. The PicoFinish ESD Micro Bit handle 4mm x 3.9"/100mm has a finger control rotating cap and meets ESD standard IEC 61340-5-1 for protection from electrostatic discharge. Wiha Micro Bits consists of premium quality tool steel for strength and feature exact fit precision machined tips for reduced cam-out and have a 4mm hex drive. The complete compact Micro Bit set comes conveniently stored in a small metal case that fits in your pocket for easy portability. 
Set Includes: Slotted 0.8, 1.5, 2.0, 2.5, 3.0, 3.5mm | Phillips #000, #00 (QTY 2), #0, #1 | Hex 0.9, 1.3, 2.0, 2.5, 3.0, 4.0, 1/16, 5/64, 1/8 | Torx T2, T3, T4, T6, T8 | Pentalobe PL1. PL2, PL3, PL4, PL5, PL6 | Standoff #00 | Y-Type #000 | PicoFinish ESD micro bit handle 4mm x 3.9"/100mm | Magnetic micro bit extension 4mm x 3.9"/100mm
Packed in a compact durable molded storage box for convenient transportation
Meets ESD standard IEC 61340-5-1 for protecting from electrostatic discharge
Comes with PicoFinish ESD micro bit handle 4mm x 3.9"/100mm
Comes with micro bit extension 4mm x 3.9"/100mm
Finger control rotating cap
Precision matched exact fit tips for reduced cam-out
Made from CRM 72 premium tool steel for higher durability and longer use
Micro Bits have a 4mm hex drive
Box Dimensions: 4.25 x 1.75 x 1.25
SKU: 75979
UPC: 084705759791
Weight lb: 0.5 lb
Country of Origin: Vietnam
Product Depth Inches: 4.25"
Product Width Inches: 1.75"
Product Height Inches: 1.25"
Packaging: Clamshell
Overall Length Inches: 4.25″
SKU: 75979
Weight lb: 0.5 lb
UPC: 084705759791