3 Piece Insulated Pliers and Cutters Tray Set
Wiha Pro Rewards members earn $6.00 USD worth of points.
Sign up for Pro Rewards to start earning points.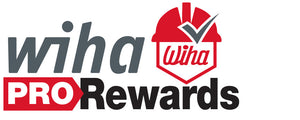 Wiha's Cushion Grip Pliers and Cutters are the standard for premium quality featuring ergonomic cushion grip handles for comfort and control, dual durometer construction for long-lasting durability, and handles directly molded to the tool steel for a permanent bond. The grips feature a slip guard handle design for added protection at the front-end and raised rear-finger steps for easy opening at the back-end. Wiha Pliers and Cutters consist of premium quality tool steel for strength and durability and induction hardened cutting edges and jaws for superior sharpness and longevity. Every single Wiha insulated tool is individually tested to 10,000 volts AC and rated to 1,000 volts AC (1,500 volts DC) for safety and peace of mind in energized applications. All Wiha Insulated tools are VDE Certified and meet EN/IEC 60900 testing standards for protection against arc flash explosion, ASTM F1505 standard specifications for insulated and insulating hand tools and CSA testing benchmarks for safety and performance. Wiha premium quality Insulated Cushion Grip Pliers and Cutters come conveniently stored in a soft modular foam tray for secure, space-saving storage. The foam tray is designed with high visibility tool call-outs printed on each tray to easily return tool to its location. Wiha modular foam trays are made of durable laminated tri-layer foam and will fit in most toolboxes and pull-out tool drawers.
Set Includes: Long Nose 8.0" | Angled Cutters 8.0" | NE Style Lineman's 9.5"
Individually tested to 10,000 volts AC and rated to 1,000 volts AC for safety and peace of mind
Handles direct molded to tool steel for permanent bond
Slip guard handle design for added protection
Wiha premium quality tool steel for strength and durability
Standard industrial brushed finish for surface endurance
Induction hardened cutting edges and jaws for superior sharpness and longevity
Ergonomic cushion grip handles for comfort and control
Tray size: Small - 11" x 7.75" x 1.25"
Durable tri-layer laminated foam
Prevent rolling and shifting when opening drawers
Stay organized with custom-fit and labeled compartments
Backed by the Wiha No Hassle Guarantee
SKU: 32960
UPC: 084705329604
Weight lb: 2.86 lb
Country of Origin: Vietnam
Product Depth Inches: 11.0"
Product Width Inches: 7.75"
Product Height Inches: 1.25"
Overall Length Inches: 9.5″
SKU: 32960
Weight lb: 2.86 lb
UPC: 084705329604